Young People: We Hear You
Maya Smith is Executive Director of Born This Way Foundation.
There's absolutely no question that the ideas, opinions, and voices of our young people are necessary to improve our mental healthcare system. That's why Born This Way Foundation was so excited to partner with California's Mental Health Services Oversight and Accountability Commission (MHSOAC) with the goal of incorporating the insights provided by California's youth into innovations to improve mental health services in the state
In addition to working with the Benenson Strategy Group to survey more than 400 California youth ages 13 to 25, we also held four focus groups with young people of that same age range and were able to make multiple conclusions about how young people view their mental health, the type of relationship they have with mental health resources, and the sort of mental health innovations they would like to see in their state.

What we learned from our partnership with MHSOAC reinforced what we've been hearing from young people all along. Young people know the importance of maintaining their mental health and want to embrace it as a priority, they're ready to combat the associated stigma that comes along with talking about their mental health, and they want to learn the necessary coping skills to deal with the stressors of their finances, school, and work life. However, they lack the necessary tools and support systems to do any of these things and desperately want their schools and communities to provide more accessible, affordable, and reliable mental health resource to help fill in the gaps.

Our research reported that one-third of youth in California say they "rarely" or "never" have access to resources to support their mental health, and over half said they don't have the resources to deal with online harassment, bullying, sexual assault, or suicidal ideation. Just as concerning, almost half of all young people in California say they don't know where to turn to get mental health resources, and more than a third of young people said that even if they did know where to look, the high cost of these services prevents them from actually using them.
As a California native, these statistics hit my heart hard. As a mother, these statistics hit my heart even harder. I want my children to know that they are supported at every step of the way. I want them to feel empowered to talk openly and honestly about their mental health. I want them to be equipped with the skills and strategies necessary to support their friends and family who may be struggling. I want them to know that they're never alone, and I want them to know we're listening.

To all the young people we had the privilege of talking to during the research we performed during this partnership: We hear you. We're listening.

We hear you when you say you want more mental health resources; we hear you when you say you want your schools to have Mental Health First Aid trainings; we hear you when you say you want more POC and LGBTQ+ representation among your therapists, counselors, and the help you receive. And we hear you when you say you need more mental health support from the adults in your schools and communities.
With your feedback, MHSOAC will support the development and implementation of youth-focused innovation projects at the local and state level intended to create a positive change within California's mental health system. These projects will embrace all the powerful stories we've heard from young people, incorporate their feedback about how the system can be improved, and ultimately reaffirm that their stories and insights are valued and appreciated. To all the young people that continue to provide us with their insights, stories, and voices: We hear you. We're listening.
Maya Smith is Executive Director of Born This Way Foundation.
In my house, we're living in a season of repetitive reminders of "please" and "thank you". My kids are good kids and when prompted, they always stop in their tracks and add the gratitude phrase appropriate for that exchange. It's just hard to express appreciation along the way when their little bodies and minds are moving so quickly all of the time. My job is to help them slow down, learn about the power of gratitude, and appreciate the many things around us that we have to be grateful for like snacks, play time, clean air to breathe, and a carefree summer of cycles of dirt and pool time that counts as a shower.

So, in a quiet house before everyone wakes up to start the next summer cycle, I want to take a minute to say thank you. Things have also been moving so quickly at the Foundation and in the world around us that on any given day, my heart is broken and then my faith is restored before I've finished my first cup of coffee. It's important for me to say thank you to the incredible Born This Way Foundation community that has propelled our work and our mission forward.
This community helped us raise over $200,000 over the last month – thousands of you. I'm knee deep in thank you cards right now, addressing envelopes to people all over the world and whether you gave $5 or $500, your donation means so much to us. We'll use these donations to build an urgently needed resource for young people facing crises – or just everyday challenges, making support and community even more accessible.
Thank you to the hundreds of young people in our network who participated in preliminary focus groups around this resource concept. We've been blown away by your honesty, vulnerability, and resilience; thank you for sharing your time, treasure, and talent with us. If you want to receive updates on this project, please make sure you've joined our community and connect with us on Twitter, Facebook, and Instagram.
Gratitude can also be bittersweet in times of transition. Last week was Rachel Martin's last with the Foundation. Rachel has been my partner in kindness for more than three years, and she has shaped this organization and each of our team members in profound ways. I used to ask Josh to print Google Docs for me because technology…and now I know how to log in and even leave a comment or two. I am sad, proud, and so grateful about this transition and all she has contributed to the Foundation. We made this video to say thank you, Rachel.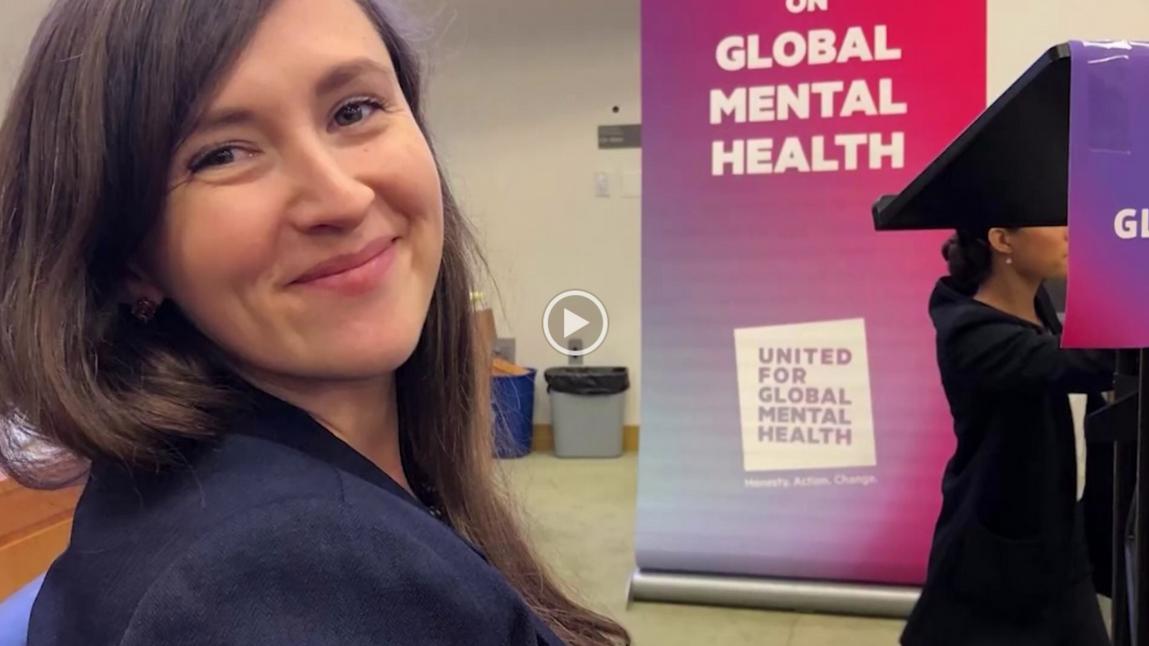 The Staples Back To School sale started this week and it's too soon, friends. Nevertheless, it seems my six-year-old also got the message that he's going to start school again next month and when we were out to dinner with some friends, he drew me a picture. Around our house, we call #BeKind21 "Hunter's Campaign." It was his experience starting kindergarten and navigating a new space that drove my desperate desire to use every platform and skill at my disposal to ensure his school would be a kind, inclusive, and welcoming environment. Hunter's Campaign launched a movement that included nearly half a million of you and generated more than 8,000,000 acts of kindness. I'm not sure where he learned the phrase "OMG" but I share his excitement that it's almost #BeKind21 time and I am so thankful that for every Fortnite doodle and Minecraft game, he also thinks about the actions behind the words Be Kind. Are you in for #BeKind21 again?
I try and pair my gratitude with action. I send greeting cards, give donations to my favorite non-profits, and participate in civic engagement – click here to register to vote! – all in an attempt to right the wrongs around me.
So please and thank you to the incomparable Born This Way Foundation community. You transform the world with your kindness.
Maya Smith is Executive Director of Born This Way Foundation.
On Monday, I had the supreme honor of watching Cynthia Germanotta sit beside leaders from around the world in Geneva at the 72nd World Health Assembly and be announced as the World Health Organization's Goodwill Ambassador for Mental Health.

Later that day, we sat eating fondue with our friends and partners at United for Global Mental Health, strategists of the Speak Your Mind campaign. Elisha London, their CEO and co-founder, turned to our team and asked, "Could you have imagined that you'd ever be here, doing this work?" Cynthia, the ever polite and humble one, answered that she was overwhelmed and so grateful. Rachel said something about our hard work and they turned to me and I said, "Yes." I was too tired, proud, and overwhelmed in that moment to explain why I answered with such certainty but I've slept now and I'm headed home, seated next to the Ambassador and I'd like to better answer the question.
When I started at Born This Way Foundation, almost seven years ago, I would spend hours – even then – reading emails from Tássia in Brazil, Maria in Germany, Iggy in Japan, and Eduardo in Spain. Alongside my basic understanding of a few languages, Google Translate would help me read the impassioned stories of these young people from around the world who had found their voices, their communities, and their support through Lady Gaga's bravery and talent. They would ask me when the Foundation would come to their country and when we'd do work with and for their friends. While I didn't have a date to give them, I'd tell them that they are part of a global movement, that we would be there soon, and that they are not alone. The first and last statements were always true and now, through the appointment of Cynthia as a WHO Goodwill Ambassador for Mental Health, we are closer to meeting these young people where they are so we can support them as they build the kinder, braver world they deserve.
Multiple times in Geneva, Cynthia turned to me, in crowded rooms of dignitaries, and whispered that she wants to be surrounded by young people. In these rooms, in every room. In the conversations this week, in every conversation. This new role is just the latest opportunity she will use to continue to call on young people to tell their own stories and to work tirelessly to provide them with the resources and platforms they need to share not only the challenges they face, but the solutions they know are possible.
Please join me, Lady Gaga, and the entire Born This Way Foundation community in offering Cynthia our big, loud, and incredibly proud congratulations. If you haven't already, follow her on Twitter @MomGerm, on Instagram @CynthiaBTWF, and on Facebook @CynthiaGermanotta to tell her the changes you want to see in mental health and to stay posted as she gets to work as the WHO's new Goodwill Ambassador for Mental Health!
Maya Smith is Executive Director of Born This Way Foundation.
Today's blog discusses suicide which may be triggering to survivors or to the family and/or friends of victims. If you or someone you know is struggling with suicidal thoughts, please seek help. You can call the National Suicide Prevention Lifeline 24 hours a day or reach out to one of the other resources listed below for assistance.

Today's blog also discusses grief and loss. Please visit Bo's Place, which connects you with a variety of resources for helping those who have lost someone in their life.
Mother's Day is mostly a celebration. It's a day where we honor our mothers and mother figures who have birthed us, raised us, sacrificed for us, guided us, and/or helped us in any way. I also know that day can be complicated for many of us.

I'm writing today for those of us who may feel joy but also some pain on this holiday. My boss encourages us to be brave and share our stories. And at Born This Way Foundation, we believe speaking our truths not only help the people sharing, but also those who are silently relating – not yet ready to speak out themselves.
My husband and I have an ongoing, morbid argument in our home about how long it should take a person to die. His father died by suicide – quickly, devastatingly and while our family knew he had been suffering, no one woke up that day knowing that they'd lose George but by mid-afternoon, the world had cracked open and he was gone. For me, my heart skips a beat every time my little brother calls and I instinctively keep my phone close to my bed while I sleep because we've had practice with late night emergencies and dozens of nights in the hospital. My mother has multiple system atrophy, a rare, complicated disease that causes her autonomic and nervous system to slowly, but surely, shut down. I've never experience the kind of grief and trauma that Dave (my husband) has because my mom is – technically – still here.
This presents a hard to explain, painful balance for me on Mother's Day, Grandma Day at preschool, when I'm at a loss for how to comfort a crying child, or when I want to celebrate the milestones that seem to happen every day in a house filled with two beautiful, hilarious, and adventurous babies. I am simultaneously heartbroken, and grateful. There are many blogs about the holes that those days and those experiences create in our lives, especially this weekend. For me, it's also especially hard to take long drives, to get in arguments, to go to Starbucks, and to see airplane cutlery.
My mom immigrated to this country from Communist Romania to start a family in a community that valued choice, democracy, freedom, and rebellion. She was obsessed with my brother and me and if part of the recipe to a successful life is to know, deep down to your core, that you are loved then we are going to be OK because Duncan and I have that in spades. I spoke to her at least 5 times a day, from when I got my first pager and would call her back collect from pay phones around town debating curfews, to when I moved across the country to California to chase love. My phone and my time, even years after she lost the ability to use a phone unassisted, feels empty.
She and I were so alike, a funny fact that is repeating itself with my own four-year-old firecracker of a daughter, and we were both stubborn, opinionated, prideful, and biting with our words. We would argue – all the time – about things big and little and the arguments would end when I stormed off, without resolution, exhausted, and impressed by her commitment to continuing the mental jiu-jitsu of a trained psychoanalyst. She would come into my room or call me at the conclusion of each of our fights and tell me, especially as she was starting to get ill, that arguing releases endorphins and drives our adrenaline so we had both just done something really great for our bodies. I would roll my eyes and continue to stew, but I'd give anything to argue with her.
I was in high school when the Starbucks in the town next to ours opened. She and I would go every day that I didn't have to be in school and she wasn't with a patient. She was known to all of the baristas; they would come up to her and whisper about their marital problems or job woes and seek her pro bono mental health support. She would order a grande dry cappuccino and she would put her elbows on the bar, getting as close to the barista preparing her drink as she could, and direct them on their foam to espresso ratio. I would stand as far away from her as possible, so embarrassed by her violation of personal space but grateful for the free Frappuccino. Today, I walk into a Starbucks every single day of my life and I order a grande, dry cappuccino and I resist the urge to ask the baristas to hold the heavier-than-should-be cup when they hand a poorly prepared drink to me. I drink the mistakes, wish I was as bold as my mom, and make a mental note to not let Stephen make it next time because he just doesn't take the dry request seriously enough for me.
Lastly, I was on a plane a couple days ago, as I often am for my work, and when I was served breakfast, I started to cry. It's common and Delta is patient with me but my mom took us around the world – she showed us everything from Liechtenstein to the Louvre to Magic Mountain. On every flight home, she'd sit behind us, drink gin and tonics, and promise to never take us anywhere again because we had bickered too much and yet, there we went – on more adventures. I'm not sure how my brother passed the ethics portion of the bar because she'd also steal everything that wasn't nailed down on the plane. At home, we'd eat with tiny Lufthansa forks, watch TV while nestled in Air France blankets, and sip coffee from those stackable, plastic KLM cups. She specialized in living as both entitled American measuring out dollops of foam in her cappuccino and thrifty immigrant, unsure of when she'd be in a situation where a tri-fold plastic airline escape postcard would come in handy.
I am waking up this morning – on Mother's Day – the mother of two beautiful, hilarious children, married to a man that loves me and tolerates my Alina-like behaviors (all the way down to the airplane theft) and I am preparing for a trip to Switzerland, one of my Mom's favorite places, to present my work eliminating the stigma around mental health (work that I do because of her) to the World Health Organization. She may not know all of these things but they are because of her so Ma, Happy Mother's Day. Thanks for the adventures, the love, the confidence, the jokes, the strength, the bravery, the memories, and the family.

I hope reading my story helps you make space to reflect on and process your own, and maybe even share it. I promise, it helps.
Maya Smith is Executive Director of Born This Way Foundation.
Our latest report, Youth Mental Health in America: Understanding Resource Availability and Preferences, is here and reading these young people's stories reminds me so much of my own experience growing up.
In the kitchen of my childhood home, we had a phone on the wall with a long cord. It rang all day and I would sit on the stairs next to the kitchen twisting the rubber through my fingers and talking to my friends about everything from our classes and teachers to if Devon Sawa was hotter than Jonathan Taylor Thomas (he's not, in case you're wondering). If my parents tried to make a call, the phone would click and I would sigh and say, "Mommmm, I'm on the phone."
One weekend morning the phone rang and it was one of my closest friends. She had decided to run away and she was calling from a pay phone in the Hoboken train station. She told me she only saw two ways out, running away or ending her life. This was not the conversation that I was used to having on those brown-carpeted stairs and I did not know what to tell her. I put the phone down, making her promise to hold on, and I got my mom. I sat next to my mom while she calmly listened, firmly spoke, and collaboratively problem solved. My friend returned home, and she is alive and thriving today.
I am fortunate to be the daughter of a psychoanalyst, a woman who listened non-judgmentally and a woman who – though she may have closed the door to her bedroom and cried many nights about the conversations she had to have with me and with my friends – showed up every day to listen, share, and connect.
This week, Born This Way Foundation released our latest research which you can read in full detail here. It can be easy to make assumptions about how young people are feeling or what they need, but we believe the only way to actually know is to ask youth themselves. So that's what we did. We asked more than 2,000 young people ages 13 to 24 across the country to tell us about their own perceptions of their mental health as well as their access to and opinions about a variety of mental health resources. And here are three facts that stand out most to me:
One in three young people don't have reliable access to the resources they need to maintain their mental health.
When asked what barriers are stopping them from accessing those resources, nearly half (47%) of young people said they don't know where to go to find them.
Far too many young people are unprepared for common but serious and potentially life threatening situations, with 48% of young people saying they would not have the resources needed if they felt suicidal.
This hits home for me, not just because of that call more than two decades ago, but also because of the young people I meet and talk to every single day. I know young people value their mental health – our survey agrees with nearly 90% of respondents reporting mental health is a priority – and I know they want to help themselves and each other, both in times of crisis and proactively every day. The conversation my mom had sitting on those carpeted steps was the urgent and hopeful one my friend needed in that moment and is the same type of conversation young people today need to be able to have with people who are trusted and prepared.
I want to tell you about this research both because I am proud of it as the Executive Director of Born This Way Foundation and because I believe in listening to young people, asking them to solve the problems they are facing by imagining the world they want to live in, and then leveraging every platform, relationship, and network I have to help them achieve that vision. I know that when tasked with addressing the mental health crisis in our country and in our world, young people are and will continue to rise to the challenge and rely on their resilience, passion, collaboration, and lived experience.
I also want to tell you about this research (and ask that you share it, far and wide). As a mother, daughter, wife, aunt, friend, and neighbor, I can only hope my daughter will hand me the phone one day and I'll be able to support her in the same way my mom supported me. And until then (she's three), I want you to know the members of the Born This Way Foundation team bring each of our roles to work with us each day and we do this work for ourselves and for each other – for deeply personal and important professional reasons. We are committed to amplifying and sharing stories, modeling and supporting conversations, and building and supporting resources and solutions and I know I speak for all of us when I say it is our privilege to do this work and to share this important research.
Click here to read the full report: Youth Mental Health in America: Understanding Resource Availability and Preferences.